Rain and humidity make masks ineffective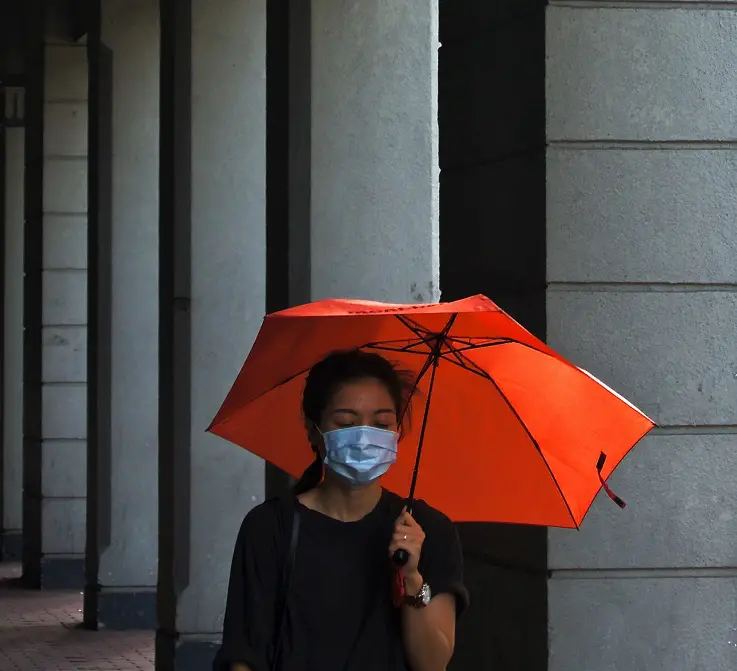 The General Directorate of Health (DGS) has recommended the use of a mask in the outdoors whenever physical distance cannot be guaranteed, in their health plan for the fall and winter period. However, they have not made any reference to some crucial rules for the use of masks this time of year.
Dampness compromises the effectiveness of the masks, regardless of the type of mask used – either due to rain, sweat, saliva or our breathing. The warning was given by several experts who warn that the majority of the population is not aware of the risks involved with a wet face mask. The World Health Organisation itself calls for governments to step up prevention and counselling campaigns, and for messages about the rules of use to be clear to the general public.
A damp mask should be promptly changed and properly stored in a safe place or put in the trash.
" Humidity makes masks porous, so all kinds of masks are vulnerable in wet weather. I think the general public lacks knowledge or guidance on this issue," said Karol Sikora, a former WHO member, recalling that "masks with higher prices have no different rules.
Disposable surgical masks, which many people wear, are particularly susceptible to bad weather, according to Paul Hunter, a specialist in infectious diseases and professor of medicine at the University of East Anglia. "They are essentially made of paper".
"At the centre of the masks is a specific material to retain viruses, but if it gets wet, damages or displaces, the mask becomes "useless".
In Spain, the director of Pulmonology at Hospital Príncipe de Asturias, José Miguel Rodríguez, stresses that it is advisable to change the mask every four hours, whether it is wet or not. "This is because over time the material loses efficiency, also due to the humidity produced by breathing, the growth of microorganisms is favoured and the possibility of becoming a source of infection increases".
The WHO has updated its recommendations on the use of masks as a Covid prevention mechanism, and again stressed that incorrect use of masks can reduce their effectiveness. In its latest guidance document, the WHO stresses that once a mask becomes wet it should be promptly replaced by a clean, dry one.
"Potential self-contamination can occur if medical masks are not changed when wet, soiled or damaged; or if they are frequently touched/adjusted when worn for extended periods".
The organisation also stresses that "a mask alone, even when worn correctly, is insufficient to provide adequate protection" and that "for any type of mask, proper use, storage and cleaning or disposal are essential to ensure its effectiveness and avoid an increased risk of transmission".